I promised that I would tell more about who I am, and how I came to be that person.  March 5, 2006 is a day that will always live on, in both my head and my heart.  On March 5, 2006, I lost the second of my two younger brothers, Chris.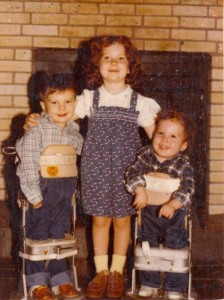 You see, I was the oldest of 3 children, the only girl and the only one of us not in a wheelchair.  I grew up with 2 younger brothers in wheelchairs, Chris being the first child with a handicap to be mainstreamed in the Spencerport School District in Upstate NY.  I always had people telling me how sorry they were that the boys were in wheelchairs.  I can honestly say that I wasn't sorry, and neither were they, other than the occasional moments when they wished they could do something like play football.  That's exactly what I used to tell people in response to that.  I am who I am today because of the things that I learned and experienced because I had two brothers in wheelchairs.  They never knew how to walk, so they didn't miss what they never had, so to speak.  We started volunteering with the Rochester chapter of the Muscular Dystrophy Association when I was just 8 years old.  The boys quickly became the local, then state poster children for NY, which meant a LOT of public events as I was growing up.  It also meant that I started doing live television interviews at the age of 8 as well.  The hosts of the local telethon, who were also newscasters on the local NBC affiliate, LOVED speaking with our family, and used every excuse they could to bring us into the station to be on the noon broadcast, as well as interviewing us during the live telethon.
Chris was the middle child and quite different from both Danny and I in many ways.  Chris was an actor, and through the support of some of the staff and students at our school, participated in many of the school plays.  About all he liked about school was his friends, chorus and rehearsals for shows.  Neither of my brothers ever let being in a wheelchair stop them from doing something that they truly wanted to do.
One of the hardest things I've ever had to do in my life was to make the phone call to my mom, who was living in CA at the time, to tell her that she had lost her second child.  Chris had been in the hospital all week and I had stayed with him.  The doctors were great about keeping mom informed, and we all agreed that he was well when he was discharged.  There was NO doubt in my mind that he could go home.  He went to his girlfriend's house and the next morning I got the call that he had stopped breathing and was on his way to the ER.  Unfortunately despite everyone's best efforts, he was never revived.  I am thankful everyday that he chose to go to her house and not come home with us because I can't even imagine if my son, then 6 years old, had been the one to find him that day.