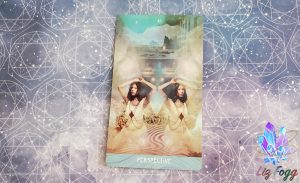 Today's card of the day is Perspective from The Starchild Tarot.
"It may be a good time to pause, take a deep breath, and review your plans. If you feel stuck, do not make any hasty decisions just yet. Sometimes looking at things from another angle or perspective can shift the energy of a challenging situation. It may be that you will need to let go of something or make some kind of sacrifice, which may initially leave you feeling vulnerable. Know that this too will pass; you just need some time to review your plans. This is a transitional phase when you are able to recalibrate your beliefs, situation, or life goals. Take this time to meditate on your personal hopes and dreams. When one door closes, another always opens."
Purchase your own personal card of the day reading via email.
Links included in our posts may include affiliate links so that we earn a small commission if you make a purchase through them.