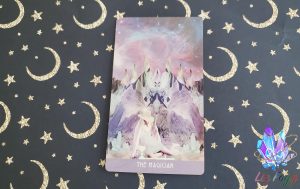 Today's card of the day is The Magician from The Starchild Tarot.
"The Magician represents the harnessing of your most innate energies and powers, each associated with a key aspect of yourself – physical (Earth), mental (Air), spiritual (Fire), & emotional (Water). It is the balancing of these forces that leads to higher forms of knowledge and spiritual awareness as you journey forward. The Magician embodies your pure creativity, with the conscious manifestation of what you wish to achieve and build in life. This card represents a time of inspiration and action, so it is important to be confident in your abilities. You already have the vision and skills you need! How will you share your gifts and talents with the world?"
Purchase your own personal card of the day reading via email.
Links included in our posts may include affiliate links so that we earn a small commission if you make a purchase through them.