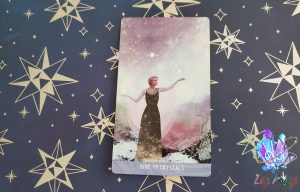 Today's card of the day is Nine of Crystals from The Starchild Tarot.
"A wonderful card, the Nine of Crystals represents the culmination of all of your efforts and hard work. You have learned an abundance of knowledge along the way, which has led to your heightened state of spiritual awareness. Through the exploration and manifestation of your dreams, you have found your place in the Universe and are radiating joy. You can now look to the next stage of your life with a fresh perspective. Perhaps you will want to spend more time in Nature or with the people you Love. Perhaps you will take a more spiritual route in your learning. You are aware of the larger scope of your being and are ready to move onto the next phase of enlightenment. A time to enjoy life's simple pleasures."
Purchase your own personal card of the day reading via email.
Links included in our posts may include affiliate links so that we earn a small commission if you make a purchase through them.