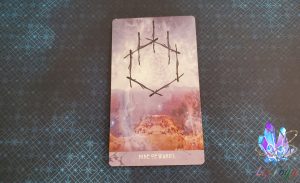 Today's card of the day is Nine of Wands from The Starchild Tarot.
"Your hard work and efforts are close to a state of completion. You have the inner strength, wisdom, and perseverance to move forward, but a minor setback or obstacle may suddenly surface. Know that you are incredibly close, so it is important to not lose touch with your goals. Believe in yourself and your innate ability to achieve success. After this last challenge you will know what you are truly made of."
Purchase your own personal card of the day reading via email.
Links included in our posts may include affiliate links so that we earn a small commission if you make a purchase through them.