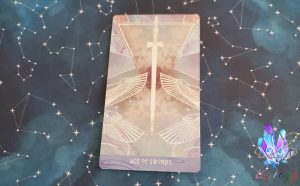 Today's card of the day is Ace of Swords from The Starchild Tarot.
"The Ace of Swords indicates a heightened state of spiritual and mental clarity. It is the emergence of great determination and power in order to reach your goals successfully. It marks a new beginning, project, plan or vision. Very often this also connects with an accelerated shift in consciousness, as you are able to move ahead with wisdom and truth. It may feel as though nothing can stop this progress, regardless of what the future may hold. Now is the time to seize the opportunities, in order to create new positive changes in your life. A time to stand out on your own, against all odds."
Purchase your own personal card of the day reading via email.
Links included in our posts may include affiliate links so that we earn a small commission if you make a purchase through them.