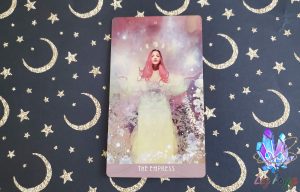 Today's card of the day is The Empress from The Starchild Tarot.
"The Empress represents the power of divine feminine magic, transmutation, and self-expression. This card suggests that you may be experiencing feelings of inner growth, a new development of ideas or a renewed sense of sensuality. These changes and shifts may manifest in various ways–through prosperity, abundance, a birth, productivity, success, healing, or loving relationships with others. Take this time to nurture your body and explore new adventures and activities outdoors. Be free in celebrating the senses of our being: body, mind, and spirit. When you honour your creativity, you connect with the blueprint of your inner truth and Higher Self. An extremely charged period of exploration and abundance!"
Purchase your own personal card of the day reading via email.
Links included in our posts may include affiliate links so that we earn a small commission if you make a purchase through them.