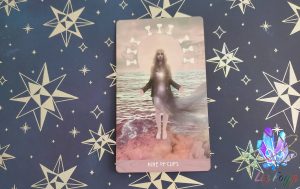 Today's card of the day is Nine of Cups from The Starchild Tarot.
"One of the most joyful and harmonious cards of the Tarot, the Nine of Cups indicates a time of satisfaction and completion! Your wishes and desires are finally beginning to manifest, leaving you with a renewed sense of emotional stability and spiritual strength. You are at a healed stage that comes after struggles have passed. Now is the time to enjoy life's pleasures and luxuries after everything you have worked for and experienced. A positive balance of self-fulfilled dreams and intuitive insights. Your instincts and psychic abilities are on high. Trust them."
Purchase your own personal card of the day reading via email.
Links included in our posts may include affiliate links so that we earn a small commission if you make a purchase through them.