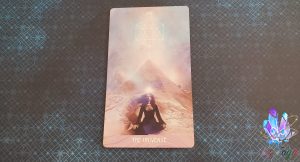 Today's card of the day is The Universe from The Starchild Tarot.
Everything has come full circle as you now enter a period of resolution and enlightenment—this indicates the end result of all your efforts and hard work, so it is time to acknowledge and celebrate all of your accomplishments! It is a synthesis of success, fulfillment and triumph in your undertakings. As a result, emotional and spiritual growth lead to higher states of consciousness and a better understanding of your place in the Universe. You have worked through the trials and tribulations of life and have learned to grow from experience. You understand your karmic path, and how you are a powerful co-creator of your own reality.
Purchase your own personal card of the week reading via email.
Links included in our posts may include affiliate links so that we earn a small commission if you make a purchase through them.