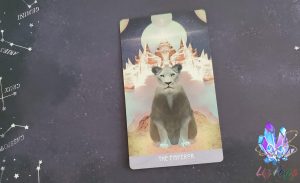 Today's card of the day is The Emperor from The Starchild Tarot.
"The Emperor indicates a time for reinforcing a sense of clarity and direction in your life. The execution of a specific plan or idea will need your inner strength and organization in order to manifest properly. Be a strategic thinker. This card may also signify an authoritative figure as much as a state of mind. Sometimes the existence of power lies in the ability to distinguish thoughts and actions that are damaging or aggressive with those that are nurturing and positive. When you consider the essence of Love behind your choices, stability, and strength will manifest with ease. This card also denotes intelligence, power, and mental organization, and an ability to think on a larger scale when it comes to raising your vibration to a higher state of awareness – this defines what you truly prioritize and how you choose to use your energy in life. What you give out always returns."
Purchase your own personal card of the week reading via email.
Links included in our posts may include affiliate links so that we earn a small commission if you make a purchase through them.