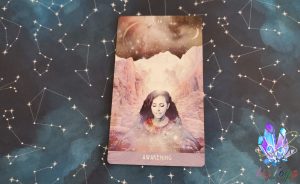 Today's card of the day is Awakening from The Starchild Tarot.
"Awakening is the understanding of your inner divine intelligence. You can look back on the choices you have made and identify the lessons you have learned, with each step advancing towards your own spiritual growth. No more fears. No more doubts. No more self-judgment. This is a time of transformation: through elevating your thoughts, speaking your truth and connecting with the divine light which ignites your dreams, it is the beginning of profound changes. From each stage of learning, you may find yourself at a crossroads, on the verge of making an important leap forward. This also indicates that something you have been anticipating is finally getting closer. Divine wisdom comes from relinquishing the negative feelings you have been harbouring towards others or yourself. Holding onto guilt, fear or resentment cannot serve you in any way and prevents you from connecting with your Higher Self. A time to release the old attachments and practice forgiveness."
Purchase your own personal card of the week reading via email.
Links included in our posts may include affiliate links so that we earn a small commission if you make a purchase through them.